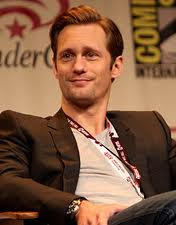 Alexander Skarsgard is one of Anna Paquins co-stars in TrueBlood. Also, for a fun fact, Stephen Moyer and Alexander Skarsgard had a little argument on set once because the explicit scenes that Sookie (Anna Paquin) and Eric (Alexander Skarsgard) were having caused tension. But they cleared it up now and their good friends.
Date of Birth
Edit
25 August 1976, Stockholm, Stockholms län, Sweden
Birth Name
Edit
Alexander Johan Hjalmar Skarsgård
Alex
6' 4" (1.93 m)
Mini Biography
Edit
Sweden may not have a large population but it has gifted the world with bounty of astonishing directors and actors. Greta Garbo, Ingmar Bergman, Max von Sydow and Ingrid Bergman are just the tip of the iceberg of Nordic actors and filmmakers who have enchanted and engaged cinemaphiles across the globe: Alexander Johan Hjalmar Skarsgård is poised to join their ranks. As the eldest son of famed actor Stellan Skarsgård, the handsome actor/director comes by his talent honestly; however, Alexander did not grow up in the glitzy world of international cinema.
For most of Alexander's formative years, his father was an acclaimed actor both on stage, TV and in movies but had not yet achieved the international fame that came after his star turn in Breaking the Waves (1996). Young Alexander was raised under modest circumstances in a working-class Swedish neighborhood as his parents wanted their children to have as normal an upbringing as possible. He began his acting career at the age of eight and continued working in films and on Swedish television until he turned sixteen and decided acting was not the career for him. Life under a microscope lost its charm and perhaps due to the influence of My Skarsgård, his physician mother, he stopped working as an actor to continue his education.
Alexander was a bit of a rebel as a teen and, instead of continuing college, at the age of nineteen, he entered compulsory military service (Military conscription). He used the time to contemplate his future. He studied at the Leeds Metropolitan University then moved to New York where he enrolled at Marymount Manhattan College to study theatre. After six months in New York, a romantic entanglement lured him back to Sweden but the relationship was short-lived. Despite having a broken heart, Alexander decided to stay in Sweden and, with a bit of life experience under his belt, began his acting career again. He appeared in a number of Swedish productions and became a star in his native country but was interested in broadening his horizons and working outside of Sweden. A visit to Los Angeles landed him both an agent and a part in the Ben Stiller movie, Zoolander (2001). After Zoolander (2001), Alexander returned to Sweden where he continued honing his acting in film and theatrical productions including "Who's Afraid of Virginia Woolf?" and "Bloody Wedding". He also co-wrote and co-directed an award-winning short, Att döda ett barn (2003), (To Kill a Child), which was shown at both the Tribeca and Cannes Film Festivals; unfortunately, stardom in Sweden doesn't bring international recognition and Skarsgård found himself flying back and forth to Los Angeles, auditioning for roles that he had no real interest in.
Finally, parts in two different HBO series came his way. His first big break was with the miniseries "Generation Kill" (2008). Alexander spent seven months broiling in the desert of Namibia but it was well worth it. His portrayal of Marine Sgt. Brad "Iceman" Colbert astonished critics and audiences, alike. Thanks to the writer's strike, after completing "Generation Kill" (2008), he was cast in the role of "Eric Northman", a 1,000-year-old Viking vampire on the hit series, "True Blood" (2008). The series was created by Alan Ball, the man behind "Six Feet Under" (2001). "True Blood" (2008) was adapted from the "Sookie Stackhouse" novels by Charlaine Harris and rode to success on quality scripts, great acting and the public's obsession with the vampire genre. In addition to "True Blood" (2008), which begins its third season in 2010, Alexander has a number of film projects in the works including the remake of Straw Dogs (2011), Melancholia (2011), written and directed by Lars von Trier, action Sci-Fi film, Battleship (2012), and The East (2012), directed by Zal Batmanglij. There is no doubt with Alexander's rising popularity and amazing talent, we will be seeing great things from him in the future.
IMDb Mini Biography By: digitaldiva
Trade Mark
Edit
Cleft chin
"Skarsbrow", ie he habitually lifts his left eyebrow quizzically
Magnetic blue green eyes
Frequently plays very calm restrained individuals, often with positions of authority(Ex. Meekus from Zoolander)
Distinctive mellow voice
Towering height
Lean yet impressively athletic physique
Blonde hair
Voted the sexiest man in Sweden in 1999
Five times voted the sexiest man in Sweden.
His mother is a doctor.
He lives in an apartment in Stockholm, Sweden near his parents.
Supports the Stockholm based football club Hammarby IF
Son of actor Stellan Skarsgård and My Skarsgård.
Brother of Gustaf Skarsgård, Sam Skarsgård, Bill Skarsgård, Eija Skarsgård and Valter Skarsgård.
His favorite actress is Isabelle Huppert in the movie The Piano Teacher (2001).
His favorite movie is Duck Soup (1933).
Favorite actor is Gary Oldman.
Not comfortable with being a celebrity at such an early age, Alexander decided to quit acting. During almost eight years he turned down every offer he got. Instead he studied Political Science, did his Military service in the Marines and intended to study at an school of architecture in Stockholm. But in 1997 his longing for acting grew too strong and he enrolled at Marymount Theatre School in New York City.
When he came back to Sweden after studying acting for two years in New York, it didn't take him long to land his first part as a grownup (in Christina Olofsson's Happy End (1999/I)).
Did his conscript military service at the Berga Naval Academies as a sergeant (Patrol Leader) with the SakJakt-unit of the Swedish Navy.
The eldest of six children.
A fan of Robert Duvall.
He speaks French as well as Swedish and English.
Personal Quotes
Edit
Yeah. First of all, sex and violence are always something that attracts an audience, and vampire stories usually have a lot of both. And, vampires symbolize consistency and something that's permanent, in a world where everything is constantly changing -- humans, animals, nature and even mountains will change over time. To have something that will just stand the test of time is attractive. Eric has been around for a thousand years, and he hasn't changed one bit. That intrigues people. What makes good drama is that people are intrigued by that and drawn towards it, but at the same time, that comfort they feel in something that is consistent, is also lethal and can kill them in a second. That creates a good platform for drama. -- on why people are attracted to vampires and the whole sub-genre in general.
I enjoy everything. Every single part of it is great -- just going to work, every day, and working on this show. It's HBO and it's Alan Ball. Just look at the cast, and the writing is phenomenal. I couldn't ask for a better job. I'm so happy to have the job. And, it was challenging, definitely in the beginning, when I was trying to find the character. I was reading the books and trying to figure out who this guy was, and also trying to find that balance of making him likable, but menacing. I wanted people to be intimidated by him, but intrigued, at the same time -- on what is the most enjoyable and the most challenging aspects of working on "True Blood" (2008).
I don't want people to know too much about me. It's easier for people to suspend belief that way. There's a risk when people see you in a part and they're watching Alexander Skarsgard. Also, I learned from my father to keep your integrity and protect your family...there are certain things that you can talk about and certain things you shouldn't talk about.
I wasn't like a Hollywood child actor - "I'm five! I can sing, I can dance, I can act! I wanna be a star!" - the movie I did [at 13] was because the director was a friend of my dad's. I told my parents, I don't want to do this any more. My dad said, "You have to love it, if you don't feel that way, do the other thing, whatever it is." I'm very grateful that he did that. I would have listened to him if he'd said, "Keep going". I would have tried, and I would have done it for a few more years probably, but I'm absolutely sure I wouldn't be acting today. I would have crashed and burned after a while.
I was fascinated by the male lion, the way he moved, the confidence. When he just sat down and looked straight at the cameraman, he did absolutely nothing, but for a second you didn't know whether he was going to yawn and fall asleep or pounce. I thought it would be interesting to try to find that. You don't show your teeth, you don't say anything, you don't show it. It's the not knowing that's interesting. Anything could happen. -on studying film of wild lions that helped inspire his performance as Eric Northman.
When I step into a project, I need to feel that there's a challenge, something new, something fresh about it. That being said, I'm kind of attracted to characters with a darkness or a sadness that they carry with them.
(2010, on moving to L.A. in 2004) The industry is very small in Sweden,' he says. 'There are a lot of great young filmmakers coming up now but 10 years ago it was very different. I was fortunate enough to be working, but when I was 28 or 29 and the offers were still "college guy, misunderstood, wants the girl", I just needed something different.
(2010, on his career) I'm always looking for something that's real and that's got meat on it. I think it's artistic suicide if you're too vain, or if you're afraid to play ugly. I would never fall for that.
(2010, on his family life growing up) The doors were always open. On any given night, there would be 10 to 15 people around the dinner table. It was very loud, very crazy, there was a lot of food, a lot of alcohol, but it was also very loving. I was very much part of the chaos but I also had my room, and in there, when I was four or five, I would organize my cars and my action figures. I needed some kind of structure, I think, because it was so chaotic in the rest of the apartment.
(2011, on his father) We're more like brothers than father and son. We hang out. I'll take him out with my buddies in LA or in Stockholm, and it's never awkward or anything. He's 60, but he likes to party.
I spent two months in Fredericksburg, Texas, when I was 8, while my father shot a movie, and I loved it. I just embraced the whole cowboy culture. I got myself a pair of awesome boots and a cowboy hat. Then I got back to Sweden in September to go back to school, and I was so proud of my cowboy boots. I told my mom and my dad, "I'm going to wear these bad boys to school today, and all the kids are going to love me. I'm going to be the coolest kid in school." Then I showed up and everyone was like, "Dude, why are you wearing ladies' boots?" They didn't really work in Sweden. I wore them that one day, and then I ran home and cried and never wore those boots again.
(2011, on L.A.) You walk into the coffee shop, and the girl asks how your day is. When I first moved here, I loved that. I know it's shallow and superficial and she doesn't give a fuck about my day, but I still like it. It's difficult to get to know a Swede. But once you do, you're in.
(2011) The nice thing is that as long as I'm doing this TV show, I've got fuck-you money. So I can say no to things. I never want to be in a position where I can't defend why I said yes.
Where Are They Now
Edit
(March 2008) Joined the cast of "True Blood" (2008), Alan Ball's new vampire drama series for HBO, according to The Hollywood Reporter. The series, based on the Southern Vampire book series by Charlaine Harris, centers on the love story between a vampire, Bill (Stephen Moyer), and Sookie (Anna Paquin), a waitress who can read people's minds.