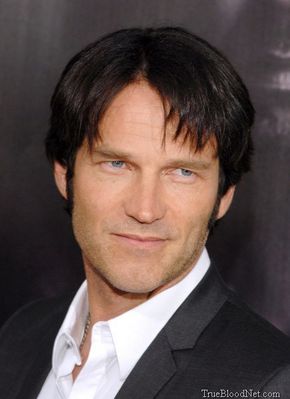 Stephen Moyer is Anna Paquins current husband.
Date of Birth
Edit
11 October 1969, Brentwood, Essex, England, UK
Birth Name
Edit
Stephen John Emery
5' 10" (1.78 m)
Mini Biography
Edit
Stephen Moyer's passion for acting began in local theatre in Brentwood & Chelmsford, Essex where he also made a name for himself with his own theatre company "The Reject Society". He then trained at LAMDA and began his professional acting career on stage, including 2 years with the RSC ("Romeo & Juliet", "The Thebans", "Columbus"), touring in "Romeo & Juliet" with the Oxford Stage in the title role of "Romeo", and in the world premiere of Pete Townshend's rock opera "The Iron Man" at "The Young Vic". British television credits include leading roles in Channel 4 dramas Men Only (2001) (TV), "NY-LON" (2004), Five's Menace (2002) (TV) and the BBC's "The Grand" (1997), "Lilies" (2007) and Empathy (2007) (TV), as well as a number of guest roles in popular shows such as "Cold Feet" (1997), "Midsomer Murders" (1997) and "Waking the Dead" (2000). In the meantime, he made his screen debut starring in the eponymous role in Prince Valiant (1997) with Katherine Heigl, followed by Quills (2000) with Geoffrey Rush, Kate Winslet, Joaquin Phoenix & Michael Caine, as well as leading roles in subsequent movies including Entrusted (2003) (TV) and Restraint (2008). U.S. television credits include leading roles in Princess of Thieves (2001) (TV) with Keira Knightley, NBC's mini-series Uprising (2001) (TV) with David Schwimmer, Hank Azaria and Donald Sutherland, USA Network's Golden Globe and Emmy -ominated "The Starter Wife" (2007) starring Debra Messing, and, most recently co-starring with Anna Paquin in Alan Ball's Golden Globe-nominated show for HBO; "True Blood" (2008) as the 173-year-old vampire "Bill Compton". Moyer currently divides his time between homes in London and L.A., where production of the new series of "True Blood" (2008) continues. IMDb Mini Biography By: Pandaish
He has two children from previous relationships: a son named Billy and a daughter named Lilac (born 2002).
Former pupil of St. Martins School, Hutton.
Was supposed to appear in the FOX drama pilot NSA Innocent (retitled Company Man), but got the role in HBO's "True Blood" (2008). His earlier role was taken over by Jason Behr.
Graduate of the London Academy of Music and Dramatic Art.
Confirmed his engagement to longtime girlfriend and co-star Anna Paquin [August 2009].
Among the guests at his wedding to Anna Paquin were Alan Ball, Elijah Wood, Sam Trammell, Carrie Preston and her husband Michael Emerson, Rutina Wesley, Jim Parrack and Todd Lowe.
Brother-in-law of Andrew Paquin.
Played the part of a vampire in "True Blood" (2008) and, in episode 101, he is attacked by humans. In Priest (2011), he played a human who is attacked by vampires. In "Ultraviolet" (1998), he played a human who is turned into a vampire and then killed by a human.
Stephen and Anna Paquin are expecting their first child [April 17, 2012].
Personal Quotes
Edit
(on shooting in New York) It was a dream to shoot there and not be a tourist.
("we" being British actors) American actors are incredibly professional when preparing for a shot or getting into character, whereas we tend to be having a laugh and mucking about. We'll be more relaxed up until the point the camera rolls. That's not a criticism by any means, but there's a different way of working.
(in a 2007 interview) If you'd asked me if I believed in the paranormal this time last year I'd have said no. I used to be an atheist, but I've chilled out a bit on that. A couple of things in the past year have made me think maybe there is something to it.
(in a 2007 interview) I said to my son not that long ago, 'What do you want to do when you're older?' He said, 'I'm going to have to go away and think about it.' So off he went. He came back and said, 'Daddy, I've decided that I want to be an actor.'
(On acting in violent scenes with his character, Jimmy Collins, in Empathy (2007) (TV)) I'm not like that in real life, so when I get the chance to punch a bit of air and let out a bit of steam, I love it.
Where Are They Now
Edit
(July 2008) Working on "True Blood" (2008), an HBO series.
SPECIAL THANKS TO IMDB.COM